Entrecard is way better than any other promotional widget that I've tried. BlogRush and others seem to slack off whilst Entrecard provides an ongoing stream of traffic.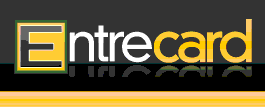 An Entrecard is not just a 125x125 avatar, it is your business card that gets paid for in credits. Credits accumulate every time you drop your card at an author's entrecard box and everytime someone opts to advertise on your widget. For dropping an entrecard off at any blog, the author receives 1 credit and you receive 1 credit. Buying advertising space is even easier... but you need to have the required amount of credits to pay for an advertising spot on sites like those of
JohnChow
and
JohnCow
. I have created
a blog for my Entrecard Visitor Appreciation & link-love
:) Go check out the contests sites that I will be reviewing and join in the dropping. Common phrases you might hear concerning Entrecard are: Drop it, Drop yours, Drop it like it's hot, Top Droppers. Snoop says it the best...
Drop It Like It's Hot!